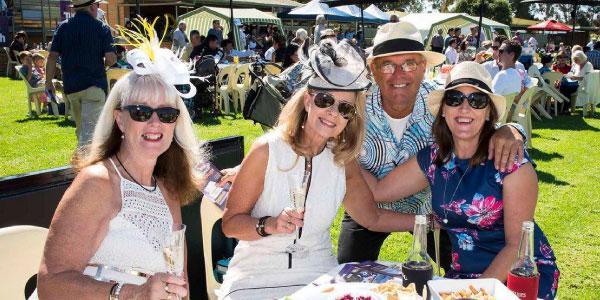 Race Day Group Packages
Our Group Packages offer a great selection of food and beverages to suit a minimum of 10 people. We can also set up private Gazeboes or reserved Marquee areas with tables and chairs with platters or buffet available subject to the type of setup and numbers.
For larger groups and corporations, we can offer Hired Airconditioned Marquees with TAB Access and TVs.
PLATTER OPTIONS
2021/22 Platter Menu (includes ebooking form)
RESTAURANT OPTIONS
2021/22 Seniors Group Package (includes ebooking form)
2021/22 Mid-week Race-day Buffet
2021/22 Standard Weekend Race-day Buffet | 2021/22 Standard Weekend Race-day Seafood Buffet
2021/22 Magic Millions Ladies Day Buffet | 2021/22 Pinjarra Cup Day Buffet
BEVERAGE OPTIONS
Please contact us for all beverage options, including packages
If you have any questions or would like to make a booking, please contact our office.
Gazebo Hire
Entertain your guests under the shady trees of Pinjarra Park in one of our gazebo's.
Our gazebo hire includes:
If you have any questions, please contact our office.
Marquee's
Pinjarra Park offers premium marquee options on race days, feature race days, and non-race days.
On select feature race days we offer tickets in our exclusive group marquee functions, subject to bookings and availability. For tickets click or tap here, visit the feature race day pages, or contact our office.
We also offer Corporate Marquee Packages, tailored in collaboration with our team to your requirements. We have the facilities to accommodate a range of guests, including ample parking and amenities.
In addition to a variety of Marquee Styles, some options can include
Serviced Bars
Buffet's, Seated food service and/or Canapé's
Airconditioning
TVs and/or Projectors
TAB Outlets
Security
Staging and Lighting
Decorations
and much more!
For further information please contact our office.
Non-Race Day Group Packages
The idyllic country-style image of Western Australia's most picturesque racecourse is the perfect venue for your next event!
The Pinjarra Park's expansive lawns and shady areas are complemented by a variety of great on-course facilities including Restaurants, Bars, Function Rooms, and Outdoor Areas.
We cater for many sizes and styles of corporate and private functions - Business Meetings, Conferences, Seminars, Exhibitions, Morning Teas, Christmas Parties, Anniversaries, Birthdays, Weddings, Cocktail Parties, and many more.
Our experienced and professional staff understand the importance of all your requirements and are prepared to host a function that suits your needs. We guarantee you a stress-free and highly enjoyable function. We provide an efficient and friendly service and assist you with all your questions. We offer you a range of advice in order to make your event a memorable occasion.
The Pinjarra Park combines breathtaking surroundings, wonderful food, service, and large and flexible capacity, to provide the perfect choice of venue for your next function.
For further information, please contact our office.
Weddings and Venue Hire
The Pinjarra Park grounds and perfectly manicured gardens is the picture-perfect place for a wedding with a difference. An idyllic country-style racecourse with shady trees, expansive lawns, and the Darling Range Scarp forming the backdrop to complete.
From arrivals by limousine, horse, and carriage, motorbikes, or vintage cars - we can cater to all your wedding wishes.
Our experienced staff combined with our professional wedding decorators and caterers will ensure that your special day is one you and your guests will remember fondly.For more information, please contact our office for a wedding kit.